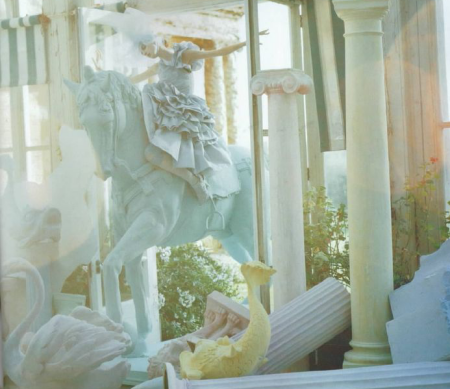 La primera vez que vi un trabajo de Tim Walker fue en una editorial de moda,y fui corriendo a pinchar su nombre en el google.
Me parecían demasiado oníricas,teatrales para un fotógrafo de moda.
Luego entendí el porqué de sus cuidadas obras.
Todo empezó cuando, un poco por casualidad, Tim Walker hizo sus prácticas de arte en Condenast, donde se encargó del archivo del memorable Cecile Beaton. Fue entonces cuando descubrió el mágico mundo de la fotografía de mano de uno de los grandes maestros. Luego llegó su trabajo como asistente de Sir Richard Avedon.
Las influencias son claras.
Dspegó, definitivamente, cuando quedó en tercer lugar del Independent Young Photographer of the Year Award. Desde entonces colabora habitualmente, siempre con producciones de cuidadísima factura en revistas como Vogue, W o Harper's Bazaar y ha disparado para marcas como Barney's, Neiman Marcus, Kate Spade, Comme des Garçons o Gap.
El libro nos ofrece una visión del proceso artístico utilizado por uno de los mejores fotógrafos de moda. Polaroids, contactos, pruebas de laboratorio y otros materiales nos transladan al mundo creativo, al backstage de los trabajos de Walker. El autor juega con su imaginación y nos enseña cómo da forma a sus obras.
BABEANDO...